Whoa guys. So I haven't posted any updates in about six months. Did anything interesting happen in the meantime?
After about a year and half of slowly plugging away at this project, and doing all of the "well I might as well do this too" things, I've finally got a running Trooper!
Putting the engine in was pretty straight forward. I dropped in the lower block first, then the completely assembled head as one unit. I made sure to put the dowel bolts in the right spots when joining the block to the bellhousing. Replaced just about every single piece of rubber that exists in the engine bay, including the quarter-mile of vacuum lines.
This Trooper build
was and remains a great inspiration to me on how I want my truck to look and perform. That archived link thankfully has all the pictures that don't seem to exist on old car forums anymore.
giusedtobe wrote:Hey I like the shiny silver exhaust manifold paint! Did you use new bolts instead of the standard studs that go in the head?

Top work so far. My block & crank is at the machine shop. I am trying to decide whether to paint the block black like you did or do something nuts like the lime green I saw someone else did.


Alan
I used to the standard studs. I originally got some copper plated nuts to put on there, but they were too long, or my studs were too short. Either way I got some stainless serrated nuts that had a thinner profile on there now.
Now for some pics: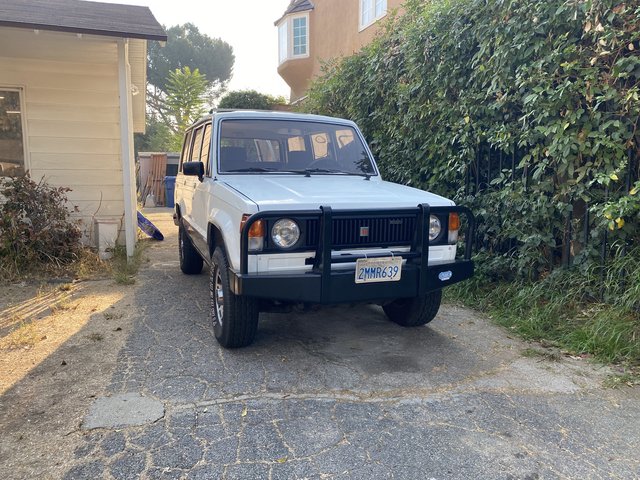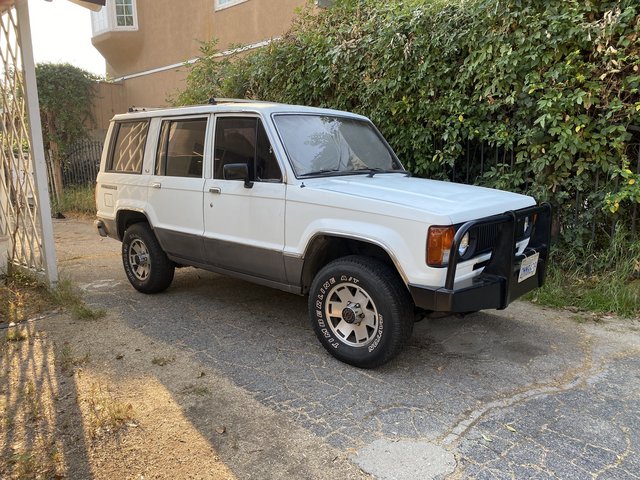 I also never mentioned that I have a cargo cover! I didn't think much of it when I first got the truck, but have learned just how rare they are. (Mandatory RockAuto box also pictured)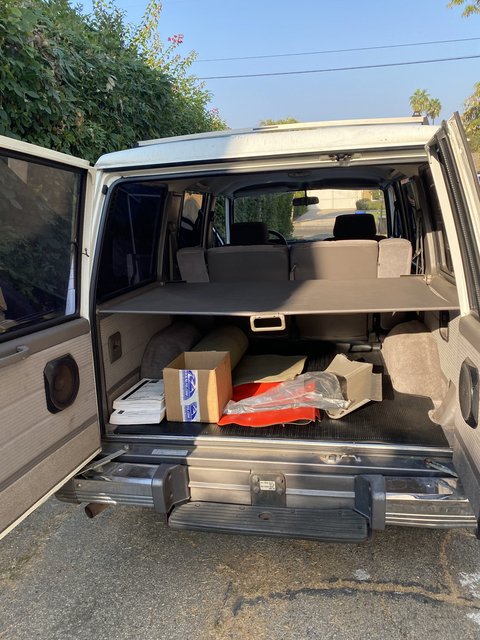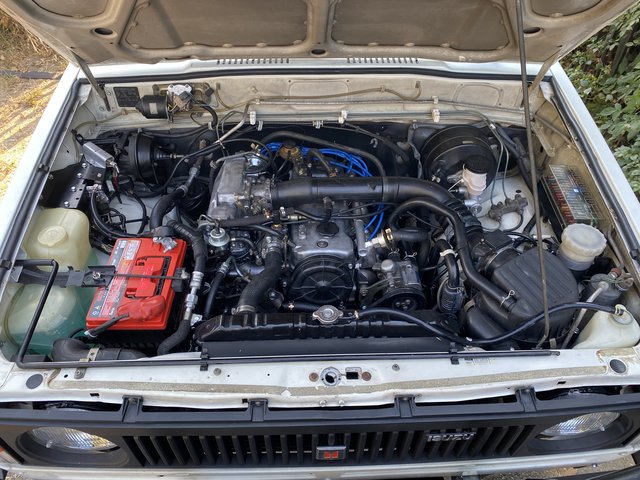 After installing the engine and driving it around the block a few times, my Trooper got it's first oil leak! I was such a proud Dad. But seriously, I was super frustrated that some bead of RTV I laid a year ago was probably not sufficient somewhere around the oil pan. I decided not to mess around. I immediately ordered a fluorescent dye and UV flashlight on Amazon which REALLY works. The leak was emanating from front crankshaft seal retainer plate. I was able to remove the plate without removing the oil pan or engine (thank goodness). Jerry recommended putting a bead of RTV in the groove that the half circle seal sits in, which I had not done before. I got it all buttoned up and no more leaks...for now.
Also, I decided to check the torque on the head bolts after only maybe 10 or 20 miles of test drives, and was surprised that several bolts went a good 1/8 turn to reach the correct torque again. I've read some debate on when the head bolts should be retorqued, so there's another data point for you.
One big unknown with this truck was the transmission, since I bought it non-op and had it towed to my house. I'm happy to report that Aisin Warner auto trans shifts smooth as silk. Very impressive for such an old tranny. I had always imagined that my Trooper would be a manual, and failing that I could convert an auto to a manual, but I'm pretty happy with the current configuration and think I'll let that idea go.
It's idling nicely at 900 rpm. Just got insurance setup and now off to get it smogged and registered, and throw on some new tires.
Huge shoutout to Jerry, obviously. Also Dennis, Ed, and anyone who has ever posted here on the Planet. Such an invaluable resource for Isuzu owners.