2000 Isuzu Trooper S 3.5l DOHC - Scheduled for heart surgery
Discussion Starter
·
#1
·
I was planning on doing a
radio and speaker upgrade write-up with photos
.
Nope. Clickity-Clack life gives you a whack!
I've known that these Isuzu engines can get a bit tap-tap happy and it's fairly normal. Mine however may have crossed over a sound barrier into severe trouble.
https://flic.kr/p/2mwk3gn
Does not go away at any RPM
Sounds like a diesel motor
1x Oil & filter change with Rotella T4 and 5oz of Seafoam. New Napa filter.
Volume of sound dissipated...dull instead of sharp I would say.
https://flic.kr/p/2mwfUmU
Throughout all of this power output seemed fairly consistent on test drives UNTIL....
A good sounding clunk and billowing smoke. I got it back in the garage and pulled number 1 plug.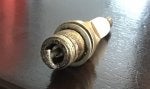 As you can tell by the pictures it was slammed pretty well and good. Unfortunately I hadn't pulled any of the plugs beforehand so I am unsure if this was a long-standing issue. It backed into the garage with as much noise and smoke with it pulled as it had with it in.
I've spent a good chunk of time wandering older posts on this same issue. I'm expecting the worst but hopeful of at least learning some valuable information. I was going to work my way through fault checks replacing as I went, the end goal being the timing belt and associated items. This new issue seems a bit more severe.
Is there anything I can look into or check at this point or is this an engine out problem? Pulling it out isn't an issue, just would like to exhaust some other options first if possible.
I'll try to provide any additional information that can help. Hopefully an Isuzu-guru(s) out there have sage advice for this novice. Thanks!