Discussion Starter
·
#1
·
Ok, I signed up for a Jeep Forum, and a Jeep Cherokee forum, because I thought "hey, maybe these guys will provide some insight and advice on my purchase."
Nope.
2 weeks in and not a single response to my build thread on either site. Everyone is wrapped up in what they are doing and I've yet to find a more engaging site than Planet Isuzoo. I know to some of you it's blasphemy to own a Jeep. I don't really understand that, but to each their own.
I loved my Axiom. I always felt like it got a bad rap among the offroading & the Isuzu community. It was a more luxurious Rodeo. Heated seats, an exterior design that still looks modern even after 12 years... But I digress. I sold her for reasons you can read about in my build thread:
viewtopic.php?f=15&t=52383&start=100#p640096
Anyway, I bout a 2000 XJ. I love it. It was originally a police vehicle for the first 17,000 miles (Police chief, so no criminals in the backseat and no drill holds for a police radio.) The police package on Jeep's were picked out individually by each precinct. Mine came with nothing out of the ordinary other than a more heavy duty suspension. It lived in Wisconsin until 2003. It was sold to a civilian in Michigan where it lived until this year. It had 98,XXX miles on it at the time of purchase (I bought it in Nashville).
The PO must have loved their Jeep because it's one of the cleanest 13 year old vehicles I've ever seen. When I installed the 3" RC lift, it had virtually no rust. It was incredible. When I dropped it off for the new tires to be installed, the guy at the shop commented "What year is this? I thought they stopped making them 10-15 years ago." Seriously, I can't believe how new everything on it looks.
Anyway, I've already installed a new Kenwood head unit/iPhone media player. I also spent the last few days coating the bumpers & all exterior plastic parts in Bedliner. The biggest complaint I have of newer vehicles is that the manufactures decided to cover them in plastic. BUT a little bedliner and it looks new again.
Since I had a few dollars left over from getting such a good price on the Jeep, I immediately ordered a 3" Rough Country suspension lift w/ new leaf pack. I also ordered a set of 31" BFG A/T's and found a set of 16" Rubicon wheels on Craigslist.
I've also bought and installed a complete new Yakima rack. There's something about those that make a truck really stand out. Plus the 58" bars mean I can carry more than 2 kayaks.
This is what she looked like the day I bought her.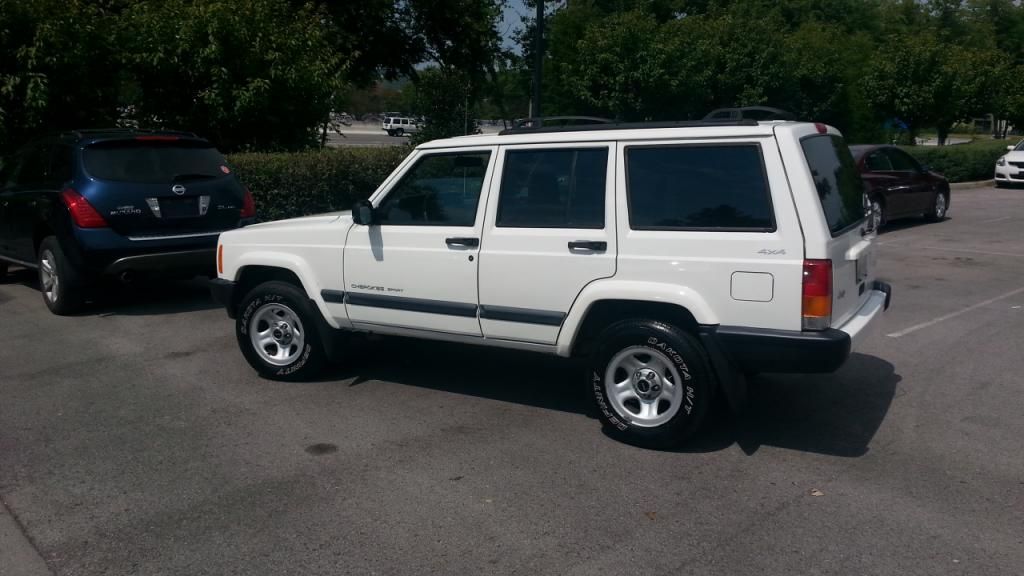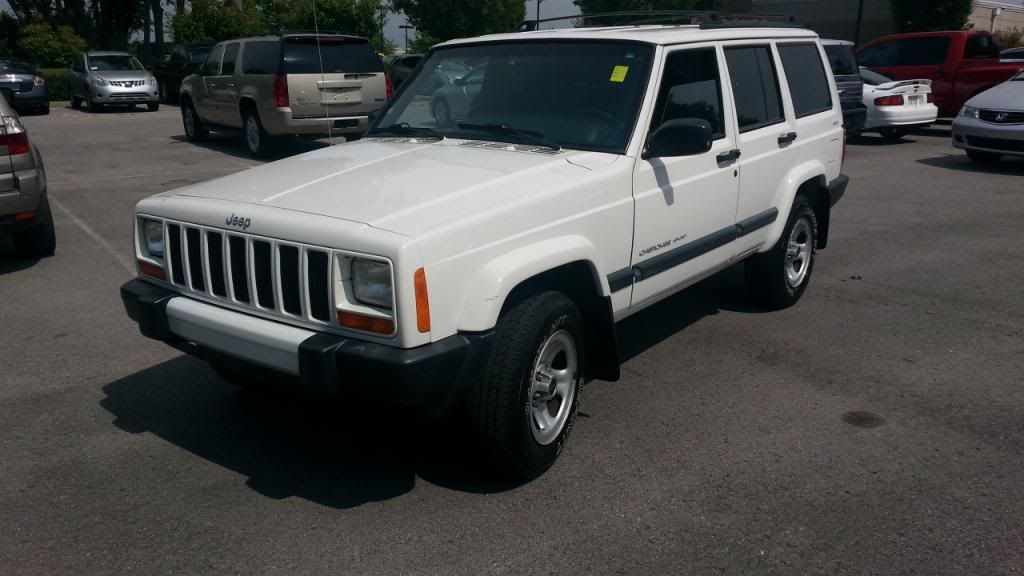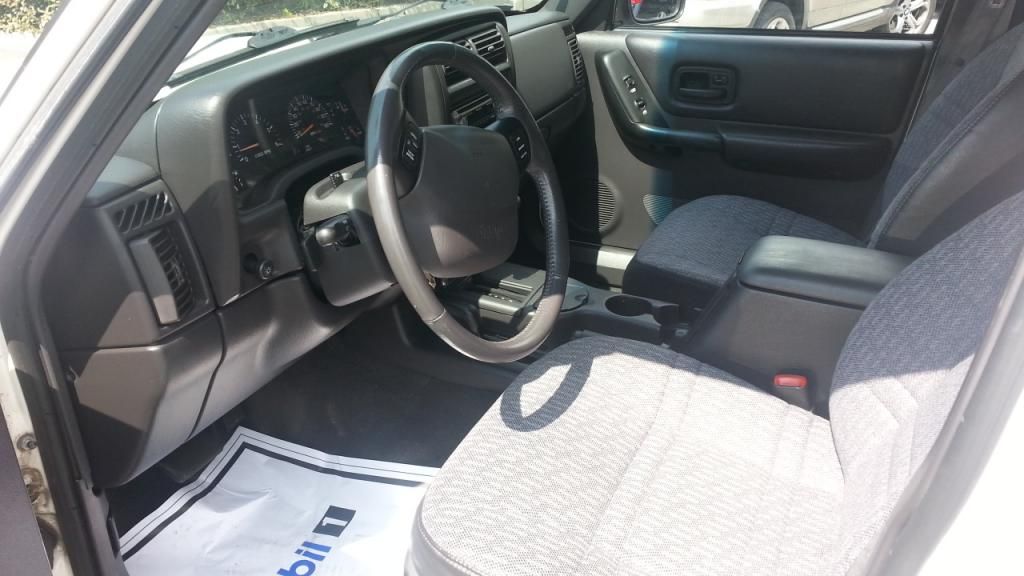 New lift, new tires, & new Yakima rack: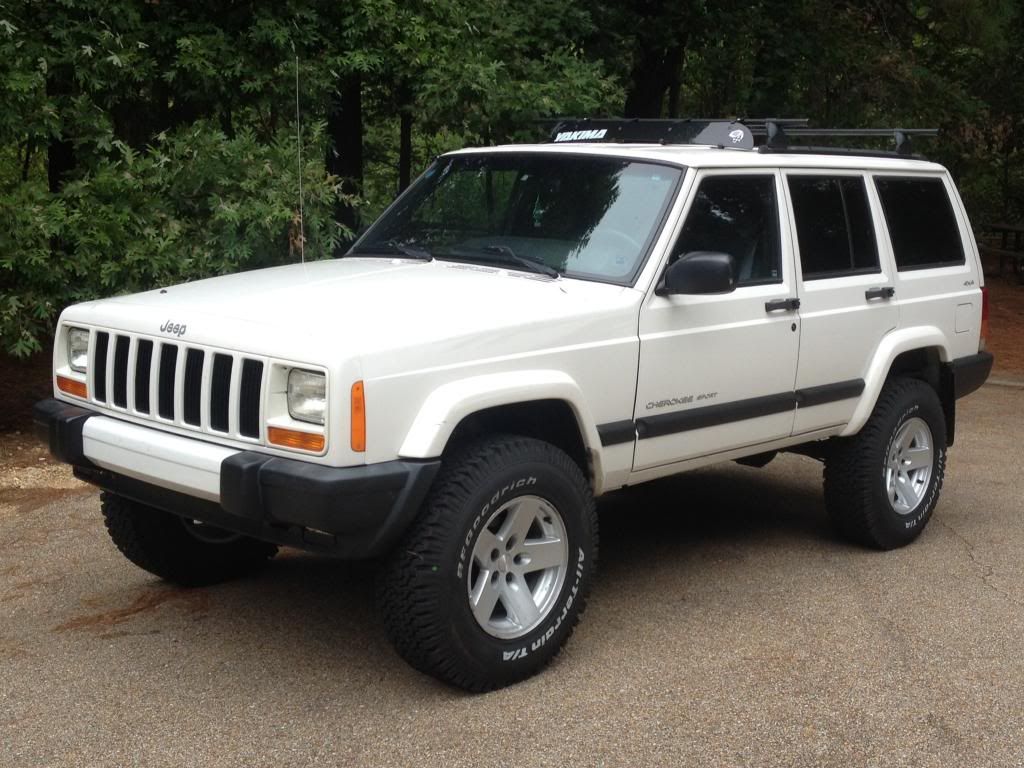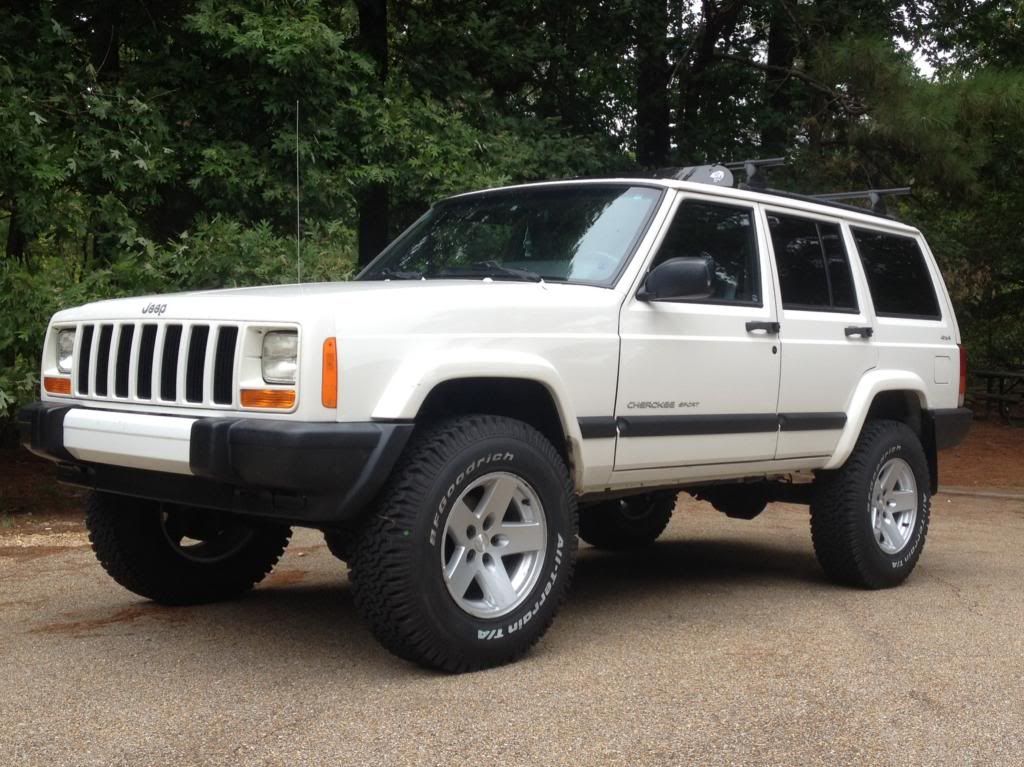 I sanded down the rear stock bumper and bedlined it too for the time being. I just dropped a ton in the last week, so upgrading the bumpers might be a little ways away.
I also got the Rugged Ridge AT Floormats which fit perfectly.
List of things still to do in no particular order:
Tire Mount Hitch (Detours)
Taillights (Already ordered & on the way)
Modern corner & turn signal lights (Already ordered & on the way)
Infinity Speakers
Cargo Liner
Antenna-X Stubby Antenna
Rock Sliders
Skid plates
New Differential Cover
D-Rings
Tail light guards (which are surprisingly hard to find.)
And somewhere way down the road, an ARB locker.
More pics to come. And I know, I know, you guys hate Jeeps. Go easy on me.