Discussion Starter
·
#1
·
I purchased the Axiom in the summer of 2009. I had a 1996 Nissan Maxima that was falling apart and I'd been looking for an excuse to get another SUV for a long time. (I owned a 1990 Cherokee while I was in high school 10 years ago.) I originally planned on buying an Xterra but came across the Axiom on a local car lot. I had forgotten they even existed until I saw it sitting out there. The fact that they weren't widely circulated really appealed to me. I liked the fact that if I owned it, I'd stand out. It's kind of fun to own something that no one else does. I went online, did some research, drove it and decided to buy it.
Anyway 2 years into ownership and I hadn't really done much to it. I put slightly bigger all terrain tires (245/70/17's) over the ones that were on it when I bought the Axiom (225/65/17's.) I bought some custom fit all weather mats and slightly tinted the windows.
Here's a pic this past winter just before the new tires got put on. The ones in this pic were the old 225's. I live in North Alabama and the day before we got 11" of snow, which is a pretty good amount for a 24 hour period in this part of the country. I went out at first light and the wife and I put the first treads in most of the snow. I drove all over town and hardly saw a soul. Snow completely shuts down this part of the country. We were out for 3 days, it was great.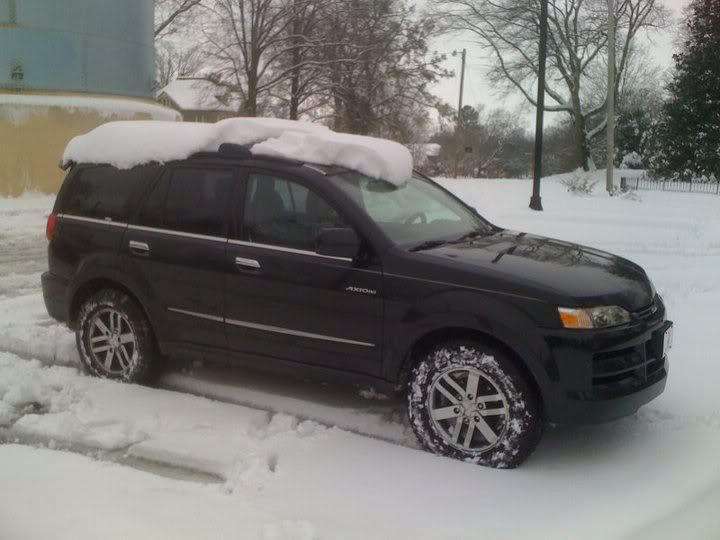 I thought about doing some mods to my Axiom but never really had anything to compare it too. I thought about lifting it, or putting bigger tires on it, but couldn't find a picture of what it might look like.
Then I found the planet, and a pioneer named holger. holger had done many of the things I had thought about doing to mine, and it was great to see what mine could look like if I chose to start spending some $.
The wife and I are saving up for a house/baby so all the mods I get to do are going to have to be cheap. I don't have an endless bankroll. I wont go out of my way to do something unnecessary, but if something needs replaced or upgraded, I'm an opportunist, and rather than simply replacing it with what it had, I'll replace it with what I want.
Case in point, I've wanted to lift mine for a while, but couldn't justify it for the price. The Axiom was riding pretty rough and was sagging a bit in the rear, so Instead of replacing everything stock, I put the heavier duty OME 919's and longer, better shocks.