Discussion Starter
·
#1
·
I recently bought a Rodeo Sport. I'd had a couple of Isuzu Rodeo's over the last 20 years and I've always liked them. I was in need of an inexpensive truck to haul and tow for around-the-house projects and such. After looking at Dakotas and I290's and Colorado's that I couldn't afford, I decided to use my experiences with Isuzu and looked for a Rodeo. This one is an '01 model, 2WD, with the 3.2V6 and automatic transmission. The truck has 140 some-odd thousand miles and I gave $3k for it. The previous owner had a shop rebuild the transmission and it seems to work well.
Craigslist photo: It's sitting behind a shop with the transmission crossmember in the passenger seat and a half-flat front tire. But it is in good shape for its age and mileage and worth saving.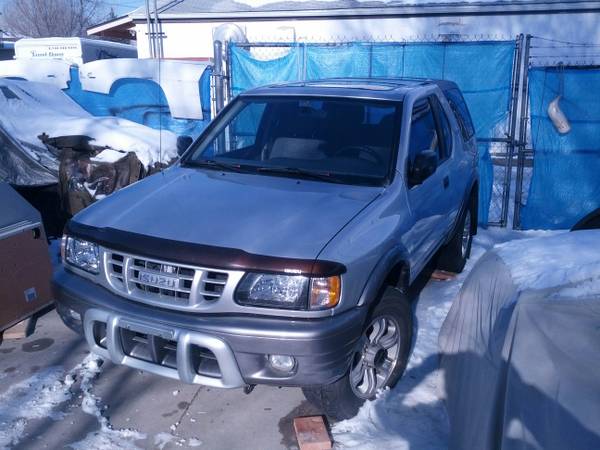 First thing I did when I brought it home was remove the busted bug-guard. Three of its four mounts were shattered and it wasn't doing any thing for the truck.
When I got the guard off, I noticed the body lines of the front fender weren't great.
So I fixed that by reshaping the edge of the fender:
I then drove it over to the car-wash, in 30F weather, as snow fell, and power washed the engine bay. When I came home, I wiped down the exterior, waxed it and took note of the condition. It seems to be in good shape for its age. The headlights don't match (the one on the passenger-side is for the 4-door Rodeo). Both front fenders and the hood have been repainted at some point and there are dents in both doors and on the roof. Both fog-lamps have rust on their lenses and could stand to be replaced. The tires are Cooper Discovery studded winter tires and well worn.
Interior wise, its clean and everything seems to work. Even the rear wiper and CD changer. The console latch does need to be replaced and the steering wheel rubber has let-go from the steel support giving it a squishy feel.
Mechanically, it seems to run well though idle a bit rough. From past experience, I know that these trucks have some common problems that I plan to tackle as preventative maintenance. This maintenance will include replacing the intake manifold gaskets, spark plugs, timing belt/pulleys and tensioner, serpentine belt and tensioner, Mass air sensor, EGR valve and tube, fuel pump assembly, coolant hoses and thermostat, water pump, vacuum hoses and all four oxygen sensors. I'll flush all fluids while I'm at it including the brake fluid and power steering fluid. I hope to do this big maintenance in one shot.
I've ordered some replacement parts (battery box, engine cover, matching headlights, foglamps, new steering wheel, key fob, etc) just to try and make the truck complete. I need to register it tomorrow, get a load of maintenance performed, get it emission tested and then start working on its suspension. I also need to get it in for a new set of tires. Maybe some Geolanders like I had on my last Rodeo? Who knows. But anyhow, as I make progress on it, I plan to share it all with you all. More to come.
Oh, and when I put it in the garage, I was quite shocked to see it only about a foot longer than a Mini Cooper S. Who knew?