Discussion Starter
·
#1
·
Little history:
I've had my Rodeo Sport for 7.5years now, and its treated me pretty well. Outside of some CV boots, wheel bearings and IMG - nothing major has happened. I was going to replace it with another vehicle, but I cant justify getting myself into another car note while the Rodeo lives. Since my girlfriend will be going back to school and giving up her lease, I decided to "let" her drive the reliable truck to school and such. By "let" I mean, she refuses to drive it until certain things are met - you know luxuries like working AC, a radio, interior panels, etc. (I get myself into projects and forget to finish them) Unfortunately, like me, the Rodeo has gotten pretty ugly with age and things arent 100% - it definitely will NOT pass girlfriend approval in its current state.
This will be my attempt to document and share some of my issues, successes, and overall progress - Hope you guys enjoy it. I'll add pictures as I go along.
fun stuff that has been done
Rear Tail Guards
3.5" Lift: OME Springs, Rancho Adjustable Shocks F/R, and Rancho's myRIde wireless controller
Firestone Destination ATs
Class 3 Hitch
Halo Foglights
Clear front corners
Door Visors
Projects to Finish
Seat Reupholstered - *DONE*
Interior Panels Reupholstered - *DONE*
Window Tints - *DONE*
New Front Bumper w/ Extension - *DONE*
New Foglights w/ brackets - *DONE*
New AC Compressor/Drier/Gatorback Belt - *DONE*
Transmission Cooler - *DONE*
Working Sound/Navigation/Entertainment System (Carputer, 4ch amp, touchscreen monitor, etc) - *Have parts, ONGOING"
Alarm with Auto up/down windows - *Have parts, ONGOING*
Front Grille Guard - *DONE*
Seats Reupholstered: DONE
So, apparently, girls arent fans of sitting on worn fabric with Coke and mud stains. I dont know, I think it adds character. Ideally, I wanted to go with Katzkin leather seats or something similar; however, the price for those on a car this old is just too prohibitive ($1000+). Solution? EBAY leatherette covers. I was a little concerned about the quality, but I was somewhat pleasantly surprised. Once you throw away the cheap plastic hooks that come with the covers and use zipties to apply tension to the seat loops, its actually not that bad. 2 months in and my Yellow Lab has yet to destroy them with her claws - SUCCESS! :bounce:
Total cost: $55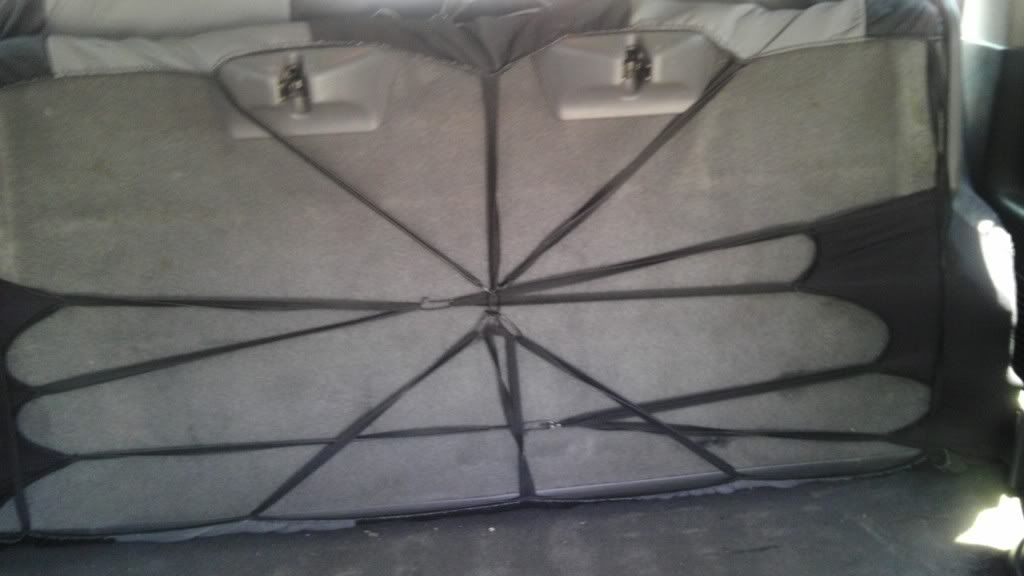 View of backseats when in folded position
Cheap hooks BOOOOO, Zipties YAAAY
Interior Panels Reupholstered: DONE
Rain has gotten into the car, numerous times. So many, in fact, that the door cloth inserts became this gooey, cloth/glue mix that would rub off on your forearm if you let it sit long enough. I dont see a problem here, but let me not digress. Changing the insert was not as easy as I had imagined. You need to remove the panel, drill or melt the tabs holding the plastic mold in place, glue the new fabric unto the mold and mount the mold on the door panel with screws. After a couple of failures of measure 100x times and cut once, but still messing up; I decided to take it to a local upholstery shop. I went with the vinyl that was the closest match to the Rodeo Sports light grey interior.
Total cost (shop + wasted fabric used in DIY): $75 for both sides
Yes.. I know I put on the opposite side door handles on... uhm, lets just say it gave me 5hp more and call it a day
(its since been fixed)
Window Tints - DONE
Plain ole tints to help get GF approved. I tried using that roll on static cling stuff from Walmart, but it kept coming off.I had the rear soft top windows replaced with charcoal vinyl (by the same upholstery place). The shop cut out most of the clear window and sewed the charcoal vinyl unto where the clear window met the black soft top. The front tints were matched to it, I believe they were 35-40%, I cant remember. Ultimately, the GF cant take all the credit here - a local thief helped me determine that I needed new vinyl windows - the front tints just seem like a given. If I had to do it again, I'd just replace the whole top with one of those EBAY versions with charcoal windows.
Total cost: $300 (3x back windows + front tints + static cling stuff)
New Front Bumper w/ Extension - In progress
Long story short: A lady was parallel parking, got out of her car to remove a glass bottle, stumbled out while the car was in gear, grabbed the steering wheel, managed to get pinned underneath her Altima, and careened her vehicle into the front of mine - which was on the OPPOSITE side of the street. Lucky for her that my car was there, otherwise she was heading into heavy traffic. That is one hell of a story, couldnt even make it up if I wanted to.
I never bothered to fix it, until now. You can see the hideous ebay halo foglights in the picture. We were all young and stupid once, right? I bought a used bumper in 'rough' condition on ebay, but it was complete with brackets and reinforcement bar. I would need to fill in the scratches and digs, the middle extension + grille guard will cover a lot of the imperfections.
Before/Current: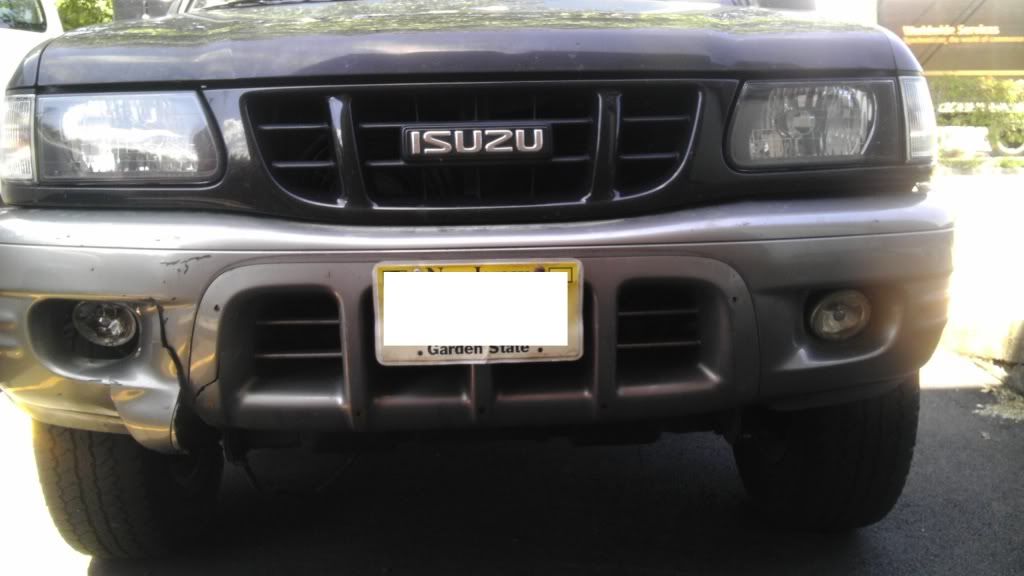 The extenion was previously removed, to get painted.
Bumper Prep:
Extension Prep:
I had to fill in these large gapping cracks, luckily it made the verticle bars bow out and cover much of the damage.
Extension Primered: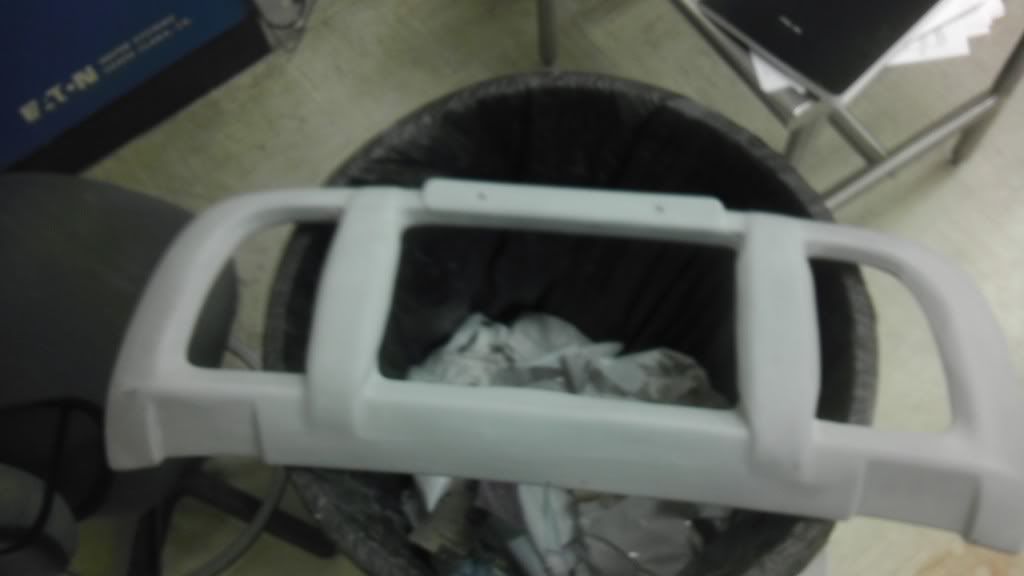 The repaired bumper and extension are done, I'll take some after shots for you guys. This is the first time I've done any bumper repair and painting, and while it isnt the greatest job ever its definately better than whats on the truck now. The paint was grabbed from Paintscratch.com and was rattle can applied. They offer a good match, it just takes FOREVER to receive the paint.
2x Titan Grey - Bumper
1x Bright Silver - Extension Piece
2x Rubberized Primer
2x Clearcoat
3x Rubbing Compound
More 200, 400, 600, 800 grit pieces of sandpaper than I could count......... RIP little guys. :sad1:
Before and After pics - waiting on finishing my AC compressor and Transmission Cooler install before mounting the bumper
Total Cost: $50 (ebay bumper) + $130 paintscratch.com = $180
Rear Tail Guards - Done
My rear guards had gotten rusty over time - No, no, no I'll never get approval then! I had some Ultra Flat Black Camo Paint lying around and got to work.
Total cost: $0
"I see some rus-ty guards, I want to paint them BLAAAAAAACK"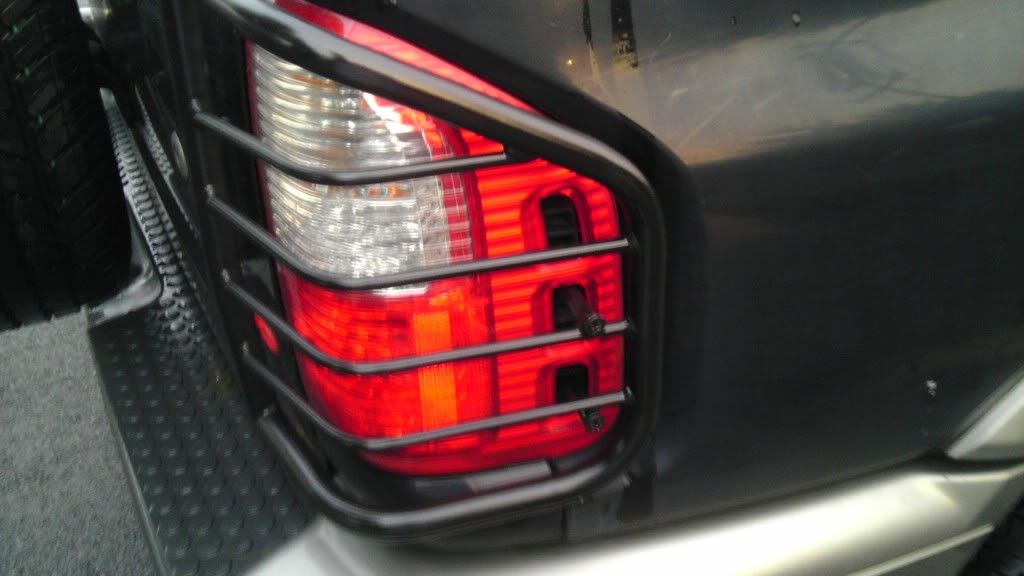 More to come!