Discussion Starter
·
#1
·
As the title says, I am looking to get more travel out of the IFS on my '99 Trooper. Personally, I drive the Trooper on the interstate and have no interest in a SAS, so I'm looking to just make the IFS better off-road. These pictures are a little old with the suspension setup bone stock like it came off the assembly line... not a fan of the body roll being determined entirely by the front axle, but I want both sway bar on road for obvious reasons. I seem to more frequently lift wheel than lose traction on the obstacles in my area.
After doing a bunch of research on here, there seem to be two viable methods...
Method 1:
First is sway bar disconnects. As most of y'all know, removing the sway bar allows for much more IFS travel, gives the front wheels truly independent travel, and keeps the body a little more level off road. I plan to mimic the idea of
@BigSwede
as found in this thread:
Disconnecting your sway bars is a relatively cheap way to both gain suspension articulation and ride comfort off road. Sway bars (more properly called "anti-roll" bars) are basically large springs that connect to both ends of a given axle, and also are attached to the frame for leverage. The...
www.planetisuzoo.com
I mocked a set up in solidworks for the front and rear and it seems easy enough to make with some hardware I have laying around + some stuff from McMaster. I plan on making these for the rear regardless, the front is TBD as of now.
--> My question here is do I need a link for each side of the front and rear? I have two concerns. With only one link connected, will it put too much force on the sway bar in a way it isn't designed for? Secondly, with links removed from both sides but the sway bar still in the truck, it seems nothing is preventing the sway bar from rotating. Sure, if I went with dual disconnects I could tie the sway bar out of harm's way, but I am wondering if my thought is even feasible?
Method 2:
"Super Flexy IFS" as it was dubbed by it's inventor,
@BigMeatVX
Here is the thread in which it is discussed and a video of it installed on a VX: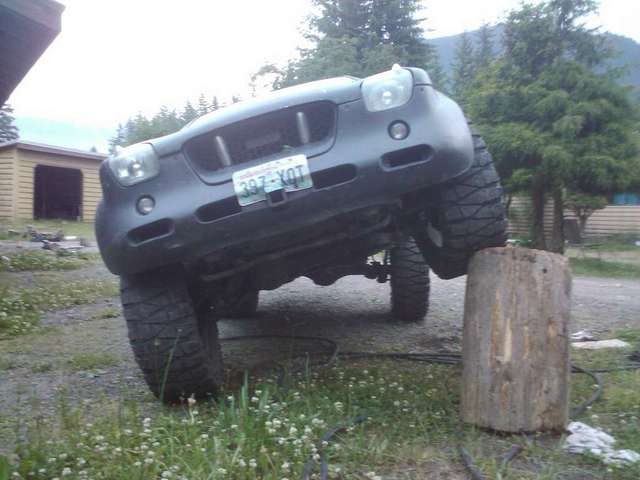 I have designed, fabricated, tested and patented a new set of parts that allow IFS to articulate in ways that were not possible before. The parts attach to the OEM locations and require no drilling to install. The design is such that the two torsion bars are now semi-connected and interact...
www.planetisuzoo.com
This seems like a great setup for making the IFS basically act like a solid axle (or as close to it as IFS can get). To summarize the idea, it connects the torsion bars so that when one front wheel is up on a rock, the other wheel is forced down by the spring force of the torsion bars rather than just the force of gravity. There is a pin that locks the torsion bars in their "normal" configuration for on road driving. I have the ability to fabricate all the parts plus a parts Trooper that I can steal the torsion bar mounting off of to practice on.
--> My question here is has anyone run this setup? It seems that only a couple were made and I'd like to get a better idea of what I can do to make it more practical. I have read the threads and peoples ideas from 10+ years ago, just looking for more modern feedback. What issues do y'all anticipate I encounter and/or pitfalls of this setup?