Discussion Starter
·
#61
·
Welp, the Trooper just barely failed smog due to high NOx at 25mph. So now I'm going through the EGR system to make sure that is all working as it should.
EGR is opening about 2mm when I open the throttle. Pushing the EGR open causes the idle to stumble and if I open it all the way the engine dies. I'm only seeing a maximum of about 2 inHg of vacuum when I tee off the vacuum line between the EGR and BPT. I verified that about 20 inHG of signal vacuum is reaching the BPT when the engine is warm and the blue TVV and throttle are open. The vacuum amount changes depending how open the throttle valve is, as it should.
A couple things I haven't been able to find after a lot of searching here is exactly how much should the EGR be opening and/or how much vacuum should it be receiving and when. I've taken off the EGR pipe just to double check it. It has no obstructions. When I was checking the EGR port on the exhaust manifold I saw an obstruction which I'm not sure is carbon build-up or a duct of some kind. Anyone know off the top of their head if this is normal? See pic: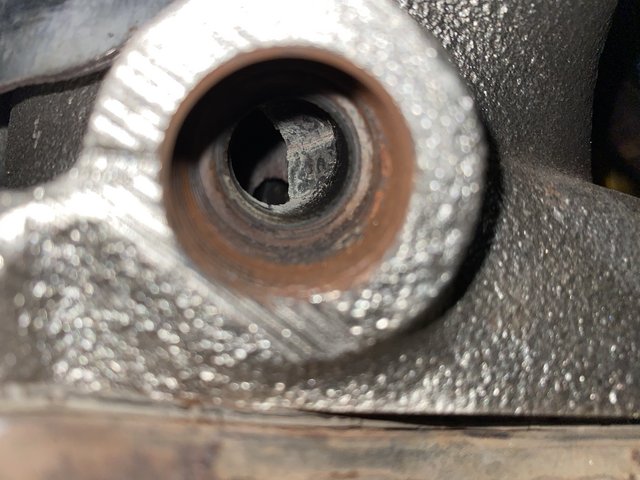 I also sprayed in some seafoam before I took everything apart and all the smoke it created indicated an exhaust leak where the manifold meets the down pipe. Not sure if that's enough to cause a fail. I also checked the catalytic converter with my IR temp gun. incoming pipe was 390F, outgoing was 480F which should indicate a healthy cat. I think the cat only has about 17k miles on it.
Also I inflated the tires to 35 PSI. They are super old and I was worried about blowing them out until I can get new ones.