Here's a gasket set for a 2.8 on eBay for less than $54 shipped: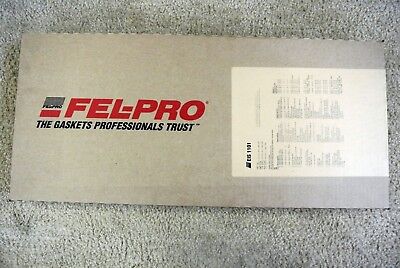 ISUZU TRUCK 2.8L 2835CC V6 OHV LL2 1991-1989. GMC CAR 2.8L 2835CC V6 OHV VIN S 1989-1987. GMC TRUCK 2.8L 2835CC V6 OHV VIN R 1993-1987. GMC ISUZU ENGINE REBUILD GASKET SET. SEE PHOTOS FOR DETAILS.
Can't tell you what you'll need for the 3500 top end, but you can probably piecemeal that. You will need head gaskets for the 3.4. Looks like this kit doesn't come with head gaskets, anyway, which is no loss since the 2.8 gaskets wouldn't fit the larger-bore block.
The Fel-Pro kit should have everything you'd need for the short block, and then some. The rubber oil pan gasket, by itself, for example, ain't cheap.
BTW the Fel-Pro kit comes with black RTV to use on the intake, don't use it, though. Use Permatex Ultra-Grey, it's better for the application. I used their Ultra Gold (hi temp) on the oil pan and it's still oil-tight after 20 years. But you could use Ultra-Grey on that, too. GM RTV sealed my 3.4's intake, but Ultra-Grey is probably as good or better than the GM stuff, these days.
Don't use RTV on oil passages, though, the hardened bits can come loose. For example, on the rear main bearing cap; I used some anaerobic "gasket maker", Permatex red 51813, also known as Loctite "518". Loctite at one time owned Permatex for around 20 years, then sold it back. So their products are uniquely co-mingled.
Anaerobic sealer only hardens where it's squished. The main bearing cap is metal-to-metal, so 518 is appropriate there. Any product that happens to sqeezes out, will just be flushed harmlessly thru the oiling system. There's a O-ringed passage thru the bearing cap, a little 518 on the O-Ring won't hurt. This stuff is used sparingly, just a wee dab then spread it out with a gloved finger. As I recall, the gasket kit should have that O-ring in it.