Discussion Starter
·
#21
·
Another update.
And no I didn't buy another truck
but yes there is another trooper at the house.
Not mine though. There was a fella up the road from me that wants the 2.8 I got from Choppy to replace his 2.8.
I tested his first and had no compression on two cylinders so at least Choppy's heart now has a home.
I'm half way done with the swap and good thing too, I'll treat this as a practice run on the black LS.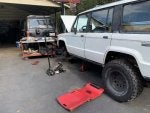 Someone used stop-leak in the white trooper so I took both my black LS radiator and his to a radiator guy to get cleaned out and repaired.
Both are original copper rads, not the slightly thinner new plastic aluminum rads that you get aftermarket.
I did also find a 3.1 computer!
@Ed Mc.
didn't you say that I needed the 3.1 ? Hope those numbers match and are legit!
One more question Ed. How many teeth and how large is the 3.1 flywheel? I remember you saying to run the 3.1 or can I run the 3.4 flywheel?
Rockauto is showing the same flywheels for the 2.8 as the 3.1 so I'm stumped here.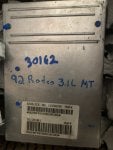 @geoffinbc
I sent you a msg on getting the intake bored out. Do you need just the upper intake or the tbi bottom half? Help me out and I'll get that knocked out.
I also grabbed some whole knuckle outer hub assemblies from a Rodeo for the Big Brake conversion. What's just as important as going? Stopping!!
Not positive I will run those junkyard rotors though. For the money, I think a complete front end rotor and caliper package from rockauto is going to look real good and stop real good too for the coin.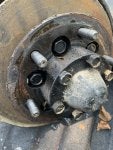 As for the white and gold/bronze 88 Trooper. It is almost done. I sent the pwr steering pump off to rebuilt only to get denied and now need to find a replacement for it, pulley and all.
It seems the 88 is a cutover year where Isuzu switched to a spline drive pulley and cardone won't rebuild mine for whatever reason. So I'm hoping to switch to the new style with a spline pulley.
Last tidbit on the 88 I did was upgrade the front disc and caliper to the dynamicFriction special rockauto has right now. Ceramic pads too. Repacked the bearings and am going to put gold painted Aisins on it. Need to put the new clutch line in place with a new master and slave. Seems she bled out when I was on vacation. Once that is done, then she is for sale. I'll post a pic of the beauty when I'm done.
last little teaser.... I have an awesome surprise coming out of Atlanta for wheels. Just you wait!
I will get on the Black LS here soon!